Clinical Training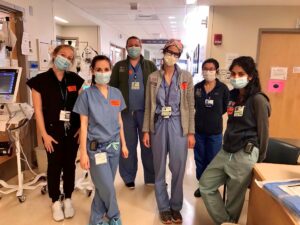 Fellowship Curriculum for the BWH PCCM Program
The eighteen months of required clinical training for pulmonary and critical care medicine consists of 12 months of rotations in the first year, followed by 6 months of rotations during the second year (see sample schedule below). Mentoring begins upon matriculation with the expectation that a mentor will help to guide the fellow toward their chosen area of clinically-relevant investigation that can be pursued in the second, third and fourth years with the ultimate goal of independence as a clinician-scientist. A major strength of our program is the breadth of clinical rotations and exposures available to the fellows. Clinical experiences will consist of rotations on consultative pulmonary services, the pulmonary vascular disease service, the medical and surgical lung transplant services, the pulmonary exercise physiology laboratory, and in a variety of intensive care units, including medical, cardiac, thoracic, surgical, and neurological ICUs. The fellows encounter considerable diversity in the patient populations seen in their rotations at each of the major teaching institutions (see Clinical Training Sites). Each site brings its own strengths to the program and complements the experiences at the other hospitals. As part of the training period, fellows acquire specific skills in fiberoptic bronchoscopy, endotracheal intubation, chest tube insertion and management, cardiopulmonary exercise testing, pulmonary function interpretation, and right heart catheterization.
Year One as a BWH PCCM Fellow:
The first year of fellowship focuses on pulmonary training (with some introduction to ICU training as well). In addition, the first year is a critical period of exposure to the PCCM faculty, which assists the fellow in choosing an area of investigation to pursue in more depth as part of their formal research training in Years Two and Three (and for many fellows, in Year Four). Mentoring begins at matriculation to nurture and guide the fellows in selecting an area of research focus. In all of our clinical training, there is an emphasis on evidence-based medicine and developing an advanced understanding of the medical literature as well as the limits of our current knowledge. This clinical training provides our fellows with an appreciation for the unmet medical needs of our patients as well as an opportunity to learn the science and art of clinical decision-making. The clinical rotations in Year One are notable for the following services:
Continuity Clinic:
Throughout fellowship, outpatients are seen in a continuity clinic. In this clinic, the fellow is supervised by an attending physician who examines each patient in conjunction with the fellow and provides guidance and consultation. Additionally, there is a teaching session for the fellows prior to each clinic session and a wrap-up session after each clinic to review teaching points that arise during the clinic session.
Lung Transplant:
Each fellow will spend two months on our vibrant lung transplantation service at BWH. Fellows will become familiar with organ procurement and transplantation, immunosuppressive regimens and issues of infection and rejection seen in the transplant population. This rotation allows the fellow to participate in a well-organized multi-disciplinary approach to patient care and to interact closely with the thoracic surgery service. One of the highlights of the service is the opportunity to participate in a large number of bronchoscopies and other advanced pulmonary and thoracic surgery procedures. This time also provides a unique opportunity to see the most severe forms of pulmonary disease, as patients are evaluated for and managed while awaiting possible transplantation.
Outpatient Specialty Clinic
This rotation provides critical exposure to patients who may not be seen commonly in other locations, but are important for comprehensive training for pulmonary and critical care medicine fellows. This would include patients with cystic fibrosis (CF), idiopathic pulmonary fibrosis (IPF) and other forms of interstitial lung disease, sleep disorders, and for allowing time for the important rigorous training in chest radiology and thoracic histopathology. Fellows also will have the opportunity for unique exposure to genetic evaluation of pulmonary diseases through a new collaborative pulmonary genetics clinic. The BWH Pulmonary Genetics Center is a one-of-a-kind multidisciplinary clinical center focused on the diagnosis and management of monogenic disorders of the respiratory system. There is a comprehensive team of dedicated adult and pediatric pulmonologists, clinical geneticists, and genetic counselors in place. The Center leverages a novel next-generation sequencing assay that provides comprehensive sequence analysis of more than 70 genes implicated in highly penetrant pulmonary disease, including genes related to cystic lung disease, interstitial fibrosis, pulmonary hypertension, bronchiectasis and central hypoventilation syndromes.
Procedural Training:
In addition to a summer bronchoscopy course and procedures performed as part of the rotations described, fellows also have the option to spend a two-week elective rotation on the Bedside Procedure Service (BPS), which performs pleural and non-pleural medical procedures including small-bore chest tubes for pleural effusion drainage on hospitalized patients. In addition, they have the option to request BPS attending supervision and coaching for thoracentesis or small-bore chest tube insertion on any of their patients while on consult or ICU services.
Pulmonary Consults:
The fellow will spend approximately six months performing pulmonary consultation under the direct supervision of an attending physician and will rotate at the BWH, Faulkner Hospital, and West Roxbury VA Hospital. Fellows will see a range of patients from the tertiary and quaternary populations at BWH to the community-based patient population at Faulkner Hospital to the veterans population at West Roxbury VA Hospital. Patients with a wide range of pulmonary and critical care medicine problems are seen, including those with acute respiratory distress syndrome, asthma, COPD, pulmonary and tracheal neoplasms, occupational lung diseases, infections in the immunodeficient and competent hosts, chest trauma, burns and smoke inhalation, neuromuscular disease, tuberculosis, pulmonary vascular and interstitial lung diseases. The intent of the program is to provide an outstanding and well-rounded clinical experience where original thought and autonomy are encouraged, but with appropriate practical and didactic support. This is based upon the philosophy that the best education results from both direct patient contact and communication between faculty and fellows in the management of clinical problems.
Pulmonary Exercise Physiology:
Another highlight of the first year of training is the Pulmonary Physiology block. During this time, focus is on the evaluation of cardiopulmonary disease and unexplained dyspnea through rigorous training in pulmonary physiology and exercise testing while working in the BWH pulmonary function lab. The fellow reviews all pulmonary function tests daily with an attending physician. Fellows supervise all cardiopulmonary exercise studies, learn basic aspects of exercise physiology and interpret test results weekly with an exercise physiology attending. A unique feature of our training program is the opportunity for fellows to have one-on-one instruction on the conduct of advanced cardiopulmonary exercise testing. Advanced CardioPulmonary Exercise Testing (ACPET) provides the ability to completely describe the cardiovascular and pulmonary pathophysiology in a patient with unexplained dyspnea or exercise intolerance. ACPET is done with pulmonary artery and radial artery catheters allowing for accurate measurement of pulmonary arterial and cardiac filling pressures during exercise, provides an assessment of exercise capacity, and defines the detailed contributions of any cardiac, pulmonary mechanical, pulmonary vascular, hematologic, muscular, or neurologic limitations.
Year Two:
The second year of fellowship focuses on education in critical care medicine (six months over the second year). This year also begins the exciting time for pursuing in depth research training under mentorship of the Program faculty. A majority of critical care training is accomplished in the medical intensive care units of BWH and the West Roxbury VA Hospital. In the ICU, the fellow supervises the housestaff and plays a major role in teaching. Endotracheal intubation, mechanical ventilation, chest tube management, nutritional support and vasopressor use as well as insertion of central lines, arterial lines, and PA lines are accomplished. Once again, each ICU has its own characteristics as well as its own unique patient population leading to a comprehensive and well-rounded educational experience. In addition, each fellow will rotate through the Surgical Intensive Care Unit at BWH and the Spaulding Hospital for Continuing Medical Care Cambridge (Rehabilitation Hospital).
Medical ICU:
Fellows will spend approximately six months in Medical ICU rotations, including the BWH MICU, focused time in the BWH CCU (especially via rotations on the pulmonary vascular service as described below), and the West Roxbury VA Hospital ICU (where fellows are encouraged to take a leading role in managing an 8-bed MICU). In all MICU rotations, fellows play a key role in conducting rounds and in guiding the house staff in the management of critically ill patients. In addition, fellows will gain important experience by teaching and performing procedures with the house staff (with attending supervision). Fellows will also develop and carry out care plans for complex patients, as well as facilitating family meeting discussions. Additionally, fellows will have the opportunity to work with a multidisciplinary care team in patient care, as well as in developing quality improvement programs for ICU care implementation. Moreover, the ICUs are active sites of translational research, and all fellows will be encouraged to participate in and learn about ongoing studies within the ICU.
Prolonged Critical Illness:
Each fellow will spend 1 month at Spaulding Hospital for Continuing Medical Care Cambridge engaged in sub-acute and chronic ventilator management, particularly in regard to weaning from mechanical ventilation, and tracheostomy management. Fellows will participate in a multidisciplinary approach to the care of patients requiring prolonged mechanical ventilation. Fellows will round with BWH-based faculty at Spaulding and participate in pulmonary consults with Harvard-affiliated faculty and rehabilitation medicine specialists. Fellows will be exposed to a broad spectrum of patients undergoing intensive rehabilitation, which include post-surgical, post-spinal cord injury, and post-neurological injury patients.
Pulmonary Vascular Disease Service:
This service represents an exceptional opportunity for fellows to gain knowledge and experience in managing patients with pulmonary vascular disease. Fellows will be actively engaged in performing and interpreting procedures commonly employed in the diagnosis and treatment of these patients, including echocardiography and right heart catheterizations with pulmonary vasodilator trials. There will be exposure to a broad array of pulmonary vascular disease with fellows providing comprehensive consultative care to patients with all forms of pulmonary vascular disease. Additionally, fellows will teach and supervise residents and medical students assigned to the service. A major strength of the pulmonary vascular disease service is the team approach to the care of the patient where the fellow works in a principal role with supervision by a dedicated pulmonary vascular faculty member. Notably, the BWH pulmonary vascular disease service has a significant partnership with the Adult Congenital Heart Disease Program at Boston Children's Hospital. Consults are received from the general medical and cardiovascular teams, the CCU and cardiac surgery ICU, medical ICU and surgical ICUs. Additionally, the pulmonary vascular disease service at BWH works closely with the cardiology and cardiology ICU services thereby allowing fellows an unparalleled opportunity to gain extensive experience in diagnosing and managing patients with complex cardiopulmonary diseases.
Surgical and Thoracic ICU:
Fellows in concert with a multi-disciplinary team which includes thoracic surgeons, general surgeons, cardiothoracic surgeons, and anesthesiologists will spend one month each on the surgical and thoracic ICU services where they will have the opportunity to gain a distinct exposure to the management of post-surgical patients. Fellows will manage critically ill patients and gain knowledge in areas less commonly seen in the MICU, including acute burns, massive transfusions, abdominal compartment syndrome, post-pneumonectomy, immediately post-lung transplant, post-extrapleural pneumonectomy and post-esophageal resection. In addition, fellows will have the opportunity to spend time in the operating room with the thoracic surgeons and thoracic anesthesiologists thereby acquiring valuable experience with airway management as well as chest tube insertion and management.
Interventional Pulmonology:
This service represents an exceptional opportunity for fellows to hone their airway management, bronchoscopic, and pleural procedural skills. In addition, fellows gain greater exposure to a variety of pulmonary pathologies including lung nodules or mediastinal lesions undergoing tissue sampling, severe emphysema treated with bronchoscopic lung volume reduction, severe asthma treated with bronchial thermoplasty, and central airway obstruction treated with airway stenting or tumor debulking. There is also an option to gain protected time and mentorship for related scholarly endeavors.
Electives:
During the 2nd year and 3rd year, fellows will be offered 2-3 one-month elective rotations to explore new areas within pulmonary and critical care medicine and, in addition, gain further in depth understanding within a particular clinical field that might also form the basis for their future investigative translational work. Additionally more senior fellows will have the opportunity to interact with clinician-scientists in these disciplines and learn about focused research opportunities. A wide range of clinical electives are available, including: Interventional Pulmonology, Sleep Medicine, Cystic Fibrosis, Interstitial Lung Disease, Pulmonary Vascular Disease, Chest Radiology, Partners Asthma Center, Chronic Obstructive Lung Disease Outpatient Program, Multidisciplinary Dyspnea and Exercise Intolerance Center, Lung Transplant, Neurology and Neurosurgical ICU, and the Tuberculosis Treatment Clinic along with international-based research in global health and care of pulmonary patients in resource-poor settings.
Years Three and Four:
We encourage all of our fellows to spend their third and fourth years full-time on research pursuing serious, in-depth scholarly work that will lead to independence as a principal investigator. We are fortunate to have two NHLBI-sponsored T32 training grants within our division that support the career development of fellows into academic clinician-scientists in a broad array of research areas within pulmonary and critical care medicine. The details of research time are further explained in the section entitled Research Training.